Get to Know: Hair Anchoring Essence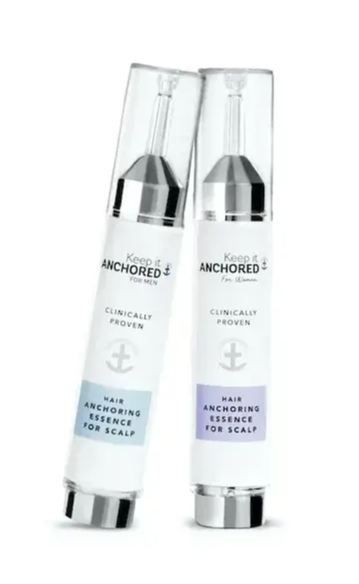 The Hair Anchoring Essence is the best place to start to reduce daily hair loss. It's your scalp's version of the thing you do each day to de-stress – meditation, yoga, you fill in the blank – so you can do you at your best. The Essence calms an oxidatively stressed scalp at the surface, so your scalp can hold on to the hair you love for longer.
Wondering what is an Essence?
KeepItAnchored's Essence is a leave-on, serum-like treatment that you apply directly to your scalp and hair roots. It is the most concentrated dose of the Hair Anchor Blend of antioxidant salts, mineral zinc, and B-vitamins. Neither watery nor greasy, the Essence absorbs and dries quickly so you can use it on wet or dry hair and it won't interfere with creating the look you want.
A few important things to know about the Essence:
Leave it on, don't wash it off.
Use it DAILY for best results. This does not mean changing how often you wash your hair. It works on either wet hair or dry hair. Even though it is a serum, it dries quickly.
It works best when combined with a quick scalp massage.
The formula is sulfate-free, paraben-free and color-safe.
How best to use the Essence:
Make sure the tube is unlocked. Just give the bottom a simple twist.
Hold the tube upside down and point the tip to your scalp so it gets to your roots and not caught up in your hair. It helps to try it out in front of a mirror the first few times to get the feel of it.
Drop 8-10 droplets across your scalp – enough to cover your scalp - then massage into your scalp and roots. These 3 steps take no more than 1 minute, max.
Then, style as you like. You can stop here or use your favorite styling products on top. The Essence should not interfere with you getting the look you want with your hair.
Use with our specially designed shampoo for best results.
We've heard these helpful tips from people who use the Essence regularly:
Put the Essence somewhere you will remember to use it daily, like
Next to your toothbrush and use it before or after brushing your teeth
Add it to your nightly skin care routine and apply it before bed
Keep it in your underwear drawer where you know you will be going daily
If you have long hair, use a comb to create part lines across your scalp so you can easily get the Essence to the scalp. You want to be sure it does not get caught up in your hair as it won't be as effective this way.
To avoid wasting any Essence, store the tube upside down when you are not using it.
BONUS TIP - On days when you don't wash, the Essence can be a 1-minute scalp refresher in addition to anchoring your hair. You use it in exactly the same way, but you may notice that your scalp feels and smells fresher afterwards.